Steve Greenberg, The Innovation Insider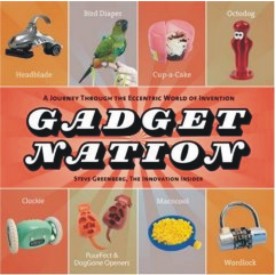 Can't fit the big trade shows into your busy schedule? Rather spend your money on other things than hotels and airfare to go in person to see the bleeding edge? Try the newest old technology: paper. This is a book. Remember that technology? Portable, never a problem with connectivity, power, or batteries. Runs on whatever daylight is served up in every single country and unincorporated area on the planet.
Americans report amazing feats of mechanical ingenuity, maintenance and repair from rural Latin America or Africa. They decry the lack of home-grown cleverness. We are just used our own brand of creativity to find it miraculous. Often we don't find it particularly interesting unless it has extra flashing lights or poufs of faerie dust. But, take an objective peek through Steve Greenberg's eye. We don't need to go any farther than our own coffee table to find an abundance of "Gee! Whiz!!"
My email box is littered with barely-readable press releases and semi-coherent white papers. But, an occasional gem surfaces. One of these is Gadget Nation. Not a scientific compendium of all the silliness that has been offered up the US Patent Office (that's a different and much heavier tome), but rather a well-selected survey of geeky gizmos that appeal to the nerd in us. I'm still deciding whether I should be embarrassed or add to my TechEgo points when I count how many of these items I've already seen and or purchased.
Though the writing style and contents would make appropriate beach (summer) or ski lodge (winter) reading, at slightly over 9.25 inches square, over an inch thick, and weighing in at over 2 and a half pounds, this hard-bound tome is not designed for a backpack. This is a coffee-table book with big, bright, instructive pictures and enough text and to make it a reading, rather than a viewing experience. The photos are clear and visually descriptive, stopping short of being distractingly artsy.
Steve Greenberg, the author, doesn't pretend to be comprehensive in his eclectic aggregation. He describes 106 items that have caught his fancy, or shown up in his review backlog. He has organized them into 8 categories: On The Go, At Play, Electronics, What Goes In . . , . . . Must Come Out, At Your Best, At Rest, At Home. A prologue and an epilogue provide a more rounded picture of inventiveness in America and a starter in how to "Get your Gadget Going." A thorough and logical index substitutes nicely for an electronic search, with the added advantage that the used doesn't have to remember what terminology the author used.
Each section contains a different number of entries. While the number of entries may reflect his personal values, they seem circumstantial to an uninformed reader/reviewer.
The format for each product review is the same, providing almost an episodic story line. The product is named. It is described in a brief and often whimsical subheading. A 'Stat Bar' box tells about the Patent status (Patent number, Pending, none); Product Price, State, Inventor's Age, Inventor's Profession, Money Spent, Money Made, Web Address. A short descriptive paragraph in 14-Point Courier New makes a few introductory comments about the invention, the inventor's motivation, and other individual characteristics. A longer article, a page or 2, in 12-point Times New Roman goes into more detail about whatever is interesting–or whatever the inventor has reported to Steve follows. You can't tell from the description of a product and its uses whether or not it's been successful, as of book publication date. Comparing the "Money Spent" and "Money Made" lines provides the best clue, though some ideas are inherently more expensive to bring to market and some inventors are more interested in promoting an idea than supplementing their income.
Whether you think a particular gadget is silly or wonderful probably depends on the current hassles that need addressing in your life. Almost all of these inventions were the result of someone getting mad enough to do something more than complain about one of life's many little annoyances. A few were dreamed up by creative folk who spend their time looking for problems to solve.
Gadget Nation won't substitute for an EE or four years in the military fixing things without access to pre-assembled parts at your local hobby shop, but it's lots of fun. The book just begs to be given to every geek in the English-speaking world. Wouldn't be nicer to give someone pretty pictures and nice words about 106 entertaining gizmos than to try to figure out which one to buy and how to wrap it, only to wonder if s/he doesn't already have it or doesn't even have room for it?
If there's no room on the coffee table, put the book on the floor and invent your own low-rise cup rest. There are a few typo's and editing glitches of the kind introduced by word processors, e.g., hy-phens in odd places in the mid-dle of a line. Not enough to distract anyone except English Majors and maybe Library Science grad students. But enough to tell us that the publishers probably aren't thinking of a copy of Gadget Nation becoming a family heirloom. Don't worry about spilling coffee or getting greasy fingerprints on it. You'll be enhancing its authenticity. Highly recommended.
Gadget Nation: A Journey Through the Eccentric World of Invention
Steve Greenberg
Sterling, New York / London 2008
387 Park Avenue South, New York, NY 10016
224 pages, 2008
ISBN-13: 978-1-4027-3686-5
ISBN-10: 1-4027-3686-X
www.sterlingpublishing.com
$19.95, publisher's suggested price; various prices around the internet