The tiny Kingston DT109 flash drive comes in 8GB and 16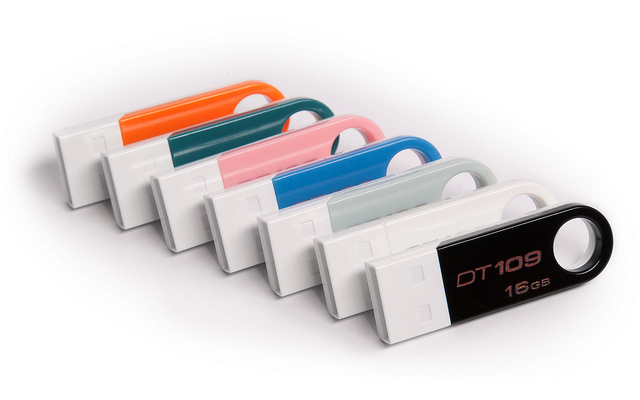 GB versions and seven fashionable colors. Measuring 1.5" long, half an inch wide, and 1/16" thick, it's a good thing that it comes in bright colors. I've managed to lose mine several times while it was still plugged into the USB port. I can remember when I couldn't pick up 5 MB, and stubbing one's toe on the drive could lead to significant injury.
Despite its small size, the DT 109 has a substantial hole for adding a lanyard or attaching it to a key ring. I'm not sure how much extra weight I want hanging from a USB port, but I do really appreciate the compact size. The way my work desktop sits, I have bent several USB drives out of shape while getting in and out of my chair. This feather weight midget sites within the protection of decorative bezel.
The model reviewed here is the 8 GB black version, run in Windows XP and 7. The spec sheet warns that the urDrive software does not work Mac operating systems. This special Kingston software that promises to pop up like a desktop for your USB, with bookmarks and favorites so that it's like taking my home preferences with me wherever I go. It addition to the expected passive storage we have become used to, urDrive promises engaged, active storage that allows easier organization of files, including photos, videos and music for folks who want extra help navigating their portable storage. Other features include a built-in photo viewer, web browser, games and a music player.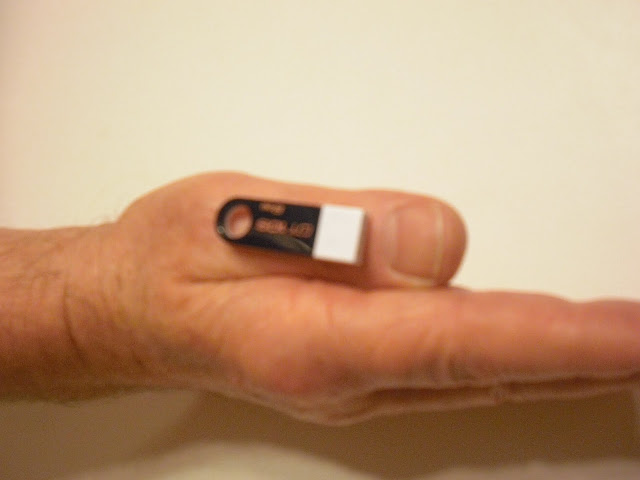 When I started the installation process, urDrive insisted that I re-install .Net Framework: I'm still discovering pieces of computer that haven't gotten replaced after the Great Summer Crash. I opted for installing breakfast instead. Once installed, I am promised that the urDrive software will use Norton PC Checkup to scan and improve my computer. There is a secure child-safe sandbox called Fooz Kids and access to more grown-up social and multiplayer activities.
With the holidays, and my birthday, approaching you're probably starting to think about shopping. The only drawback to using the DT109 as a stocking stuffer is that even in it's packaging it's likely to get lost in the toe. Can I suggest two of the same, or complementary colors? At a gram each and with those crafty holes, it will be easy to attach them to the backing and they will make elegant and practical earrings with just the right amount of dangle. Get a handful for those last-minute gifting opportunities and hope that you have left-overs. Less caloric than fruitcake.
Kingston DT 109 Flash Drive
Kingston Technology
17600 Newhope Street
Fountain Valley, CA 92708 USA
Toll-Free +1 (877) KINGSTON
Ph: +1 (714) 435-2600
Fx: +1 (714) 435-2699
8 GB $16.00
16GB $30
Or whatever sale your search brings you to the day you go shopping