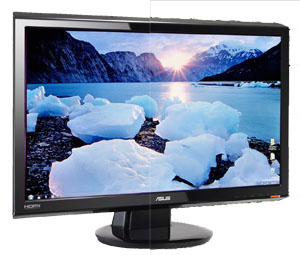 The Bullet Points: The ASUS VH242H LCD monitor is a 24" (23.6" actual) TN (Twisted Nematic) technology LCD (Liquid Crystal Display) computer monitor with VGA (Video Graphics Array), DVI (Digital Visual Interface) and HDMI (High Definition Multimedia Interface) inputs. It has two 2-watt speakers and S/PDIF (Sony/Phillips Digital Interconnect Format) output connectors. Native resolution is 1920x1080 (16:9 aspect ratio) with pixel pitch of 0.272mm. Brightness is 300 cd/m2 and contrast is 1000:1 native, 20,000:1 with ASCR (ASUS Smart Contrast Ratio). Viewing angles are 170 degrees horizontal and 160 degrees vertical. There are manual and automatic brightness, contrast, and color controls in addition to several presets for common types of video content. The panel can be wall mounted using a standard VESA (Video Electronics Standard Association) mounting device.
What's In The Box: LCD monitor, one-piece base, DVI and VGA cables, power cord, support CD-ROM, paper Quick Start Guide.
The Review: LCD monitors have been the standard for computer monitors for some time now. So, why is it that I, a self-proclaimed technophile, have been the last person on the planet to get one? Well, it's just that I am fussy about image quality, and reasonably priced LCD monitors that produce as good an image as CRT monitors have been a while in coming. Every time I would line up an LCD monitor with my 22 inch CRT monitor, the LCD monitor would come up short in both brightness and contrast. I've always felt that the points of interaction between the person and the 'puter are the most important buying considerations: the pointing device, the keyboard, and the screen.
There are many advantages that LCD monitors have over CRT monitors. They take much less space on the desktop, they use much less power, and most of them come in an aspect ratio that is much more natural to the human eye.
Aspect ratios (ratio of width to height) have settled into basically two ratios for computers: 16: 10 and 16:9. 16:10 is most common in computer monitors (1280x800, 1680x1050), but many models out now use 16:9 (1920x1080). This reduces the price of the monitor noticeably because of the reduced pixel count. 24" 16:9 monitors start at about $220: 24" 16:10 monitors start at about $300.
In addition to simplicity of features, the VH242H has simplicity of appearance: plain rectangular glossy black frame with few markings to clutter the face. Even the ASUS logo is small, silver, and unobtrusive. The stand is a simple one-piece base with an aperture to manage the cables. Adjustment is vertical tilt only. Settings buttons are flush with the front surface and marked in grey which contributes to the monitor's minimalist appearance. The only color features on the face is the small power switch, a subdued orange, and the power LED, a soft blue. I mention this because so many LCD monitors have front bezels with more lights than a shopping center at Christmas, and I find this distracting.
Firing the VH242H up for the first time, the monitor automatically detected that I had connected the DVI interface and then made a picture. Windows 7 RC1 figured out the display change and automatically adjusted itself to the new monitor. This included automatically loading a wide aspect image of the wallpaper I was using. There was nothing for me to do. Similarly, the three Linux distributions on this machine automatically adjusted to the new monitor without a fuss and selected wide aspect wallpaper to match. This was more of a surprise, as I am accustomed to doing some bit twiddling in Linux after hardware changes.
There are several presets that adjust color, contrast and brightness for the type of media being displayed and for your environment. The default is Splendid, which is Kodak vivid but is the best all-around setting. Others adjust for movies, games, photos, day and night.
Living with the VH242H for awhile has made some impressions:
Nits:
Despite accepting up to 75 Hz vertical refresh rates, it displays at 60 Hz. This can be a serious problem for hard core gamers, but nearly every other LCD monitor has the same problem.

Settings buttons require a firm push to actuate. Pressing on the face with your finger moves the monitor. To prevent this, It's necessary to place a finger behind the monitor and squeeze the button with your thumb in order to click the button.

It doesn't make coffee.
Picks:
Bright and sharp image.

Ghosting of moving images, a characteristic of all LCD monitors, is practically nonexistent.

Light bleed from the backlighting is practically nonexistent.

Power consumption is only 55 Watts compared to my old CRT's 230 Watts. Power consumption drops to a paltry 1.5 Watts in standby mode, compared to my old CRT's 35 Watts in standby mode.

Lightweight – only 13 lbs. Makes it easy to pick it up and take it along to show it off at presentations.
Conclusion: The ASUS VH242H LCD monitor produces a great image at a price that's hard to beat. It's dynamic contrast makes a sharp, bright image that rivals CRTs. It's wide aspect ratio makes for a more usable desktop where you can park things without them piling on top of each other. It's absolutely superb at displaying video, and works acceptably at displaying 3D games. Oh, yeah, it's also great for work, where you can line up windows side-by-side and display page layouts at actual size. Its sharp, clear image is easy on the eyes, and just plain looks good. If you have an LCD monitor that is more than a year old, take a look at the newer ones, especially this one. If you are still using a CRT monitor, don't hesitate - get this LCD monitor. It will make your computer seem brand new. Highly recommended.
Product Information
ASUS VH242H LCD Monitor


ASUS Computer International
800 Corporate Way
Fremont, CA 94539
510-739-3777
http://usa.asus.com/