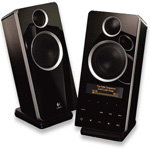 USB Speaker System Speaks Strongly to Audiophiles
The bullet points: the Z-10 is a 30 watt RMS 2.0 USB speaker system with a unique control panel on the front. The control panel lets you operate volume, music play lists, Internet radio station presets, reports computer CPU and memory usage, date and time, info on media playing, and more.
System Requirements:
Pentium-class CPU or better, 256 MB RAM, 20 MB disk space, USB port, CD-ROM drive, Windows XP. (Reviewed on Windows Vista.)
What's in the Box:
2 black face 30 Watt RMS speakers, software CD, digital and analog connector cables, quick start sheet, faceplate cleaning chamois.
The Review:
Multimedia accessories are myriad and manifold on the PC platform. If you do movies or music on the PC, one of the best enhancements you can get is a good set of speakers. There is a vast array of speaker options available for the PC.
Logitech makes a wide variety of speaker systems for personal devices of all kinds. The Logitech Z-10 USB speaker system is one of those. Its appeal is good sound in a small package and a unique front panel to control multimedia functions.
The Z-10 is a 30 watt RMS 2.0 system. (See sidebar for interpretation of geek-talk) It is packaged in a pair of attractive black metal enclosures with acrylic face plates and back lighting to highlight the touch panel and display screen. There is a two-way mini stereo jack on the side of the right speaker unit that serves as output for headphones and input for your MP3 player, allowing your MP3 player to use the speakers directly. The Z-10 recognizes all of the major media players on the Windows platform, including Windows Media Player, iTunes, MusicMatch, Winamp, and several others, and is able to control them from the front panel. Installation is straightforward. Install the software first, then plug in the device. Then Windows can discover the Z-10 and install the drivers when you plug in the speakers.
The LCD Manager software handles several aspects of the LCD panel on the speakers, including which panel utilities are available for display. (You can deselect the ones you don't use.) There are also controls for the LCD's brightness, as well as micromanagement of each individual display, such as the type of clock to display. The display is context sensitive; it will display what is appropriate for what you are doing, such as automatically displaying the id3 tag information on an MP3 while you are playing it. At other times it can display items such as CPU and RAM usage.
The Z-10's talents are not limited to read-only. It's called an "interactive" speaker set because you can use the speaker's front panel to control many computer functions. Volume control is the obvious example. The front panel also controls player functions such as fast forward and reverse, skip, pause, etc. It can also be programmed with presets than tune in your favorite Internet radio stations, the way your car's radio buttons work. If you press one of these presets, it will launch the preselected media player, select the station, and begin playing.
I could go on describing the front panel features forever, for they are numerous and numinous, but I would be remiss if I didn't talk about what the Z-10 system is like simply as – speakers. As their RMS rating indicates, they can be, um, loud, when you are in the mood. I really like the front panel volume control because I find it very clumsy to use the mouse to dive for the volume control in the Windows taskbar. It controls the Windows volume setting as well, so you don't wind up with the disconnect between Windows and a hardware control. You can use the front panel level control to toggle through the bass and treble controls as well.
The Z-10 delivers very good bass, as good as the subwoofer on the 2.1 systems I've experienced. The sound quality makes a very good case for choosing this 2.0 system (no sub-woofer) over a 2.1 sytem (with a subwoofer), simply because you don't need the sub-woofer. For direct comparison, I used the Z-10 system against my Creative Labs 5.1 speaker system on a Creative Labs Audigy sound card for comparison. The Creative Labs 5.1 speaker system with its five satellite speakers and subwoofer delivers excellent coverage of the full range of audio frequencies. The Z-10 system falls short of the clarity of treble frequencies that the Creative Labs 5.1 system delivers, but it's close. That's not a criticism as much as an observation; the Z-10 system delivers 90% of the quality of my 5.1 system, and it's a lot easier to place on a desktop.
All is not perfect, though, as the Z-10 decidedly displays latency when used with many 3D applications (read - games). During periods of high screen activity when the CPU is busy passing information to the video card, the sounds fall markedly behind the action on the screen. This is in contrast to the same applications (read - games) when run on my Creative Labs Audigy sound card that is in the same machine.
Conclusions: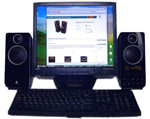 The Z-10 system looks great. It is polished and weighty, the LCD control panel has many display functions, it recognizes several media players, and controls them from the front panel. The radio station presets are cool. The clock display is trick, the play, volume and mute buttons are convenient, as they give you control outside of the Windows taskbar. The Z-10 seems pricey, but the sound quality delivers. The useful front panel controls tip my opinion toward the price. I can't overcome my feeling that the Z-10 is heavily slanted toward the younger techno-lusting population. (My daughter is actively conspiring to get the Z-10 away from me.) Not withstanding, I am a committed technophile who likes these toys in our gadget-ridden age. Hey, even if you are not a technophile, get these speakers because they make great sound, don't need a sub-woofer, and they look great. Highly recommended.
Product Inforrmation
Logitech Z-10 Speaker System
Logitech
6505 Kaiser Drive
Fremont, CA 94555 USA
800-231-7717
http://www.logitech.com/
Web Price - $110
Sidebar: geek talk about audio technology:
Watts - a measure of electrical power. As applied to things like speakers, it is an indication of how loud they can be. More subtly, the higher the RMS wattage, the clearer the speakers will be at normal volumes because of the "overhead" that higher wattage capability provides for peak signals at the high and low ends of the frequency range.
RMS (Root Mean Square) - Mathematically, the area under a plot of a sinusoidal wave (like a sound wave) converted to an equivalent square representative of a DC (direct current) plot. It roughly represents the constant power capability of speaker output without distortion. This is in contrast to the "peak power" ratings commonly stated for inexpensive speaker systems (to give the marketing people bigger numbers) which only represents the current capability for bursts ("spikes") in the signal and which do not represent how much "loudness" the speakers can produce without distortion. Look for RMS ratings for speakers, not peak ratings.
2.0 system – a basic stereo pair of speakers - two speakers and nothing else.
2.1 system – a pair of stereo speakers with a sub-woofer. This system typically delivers better bass than a simple 2.0 system
Quadrophonic speakers – a four speaker system that delivers hardware based surround sound (LF, RF, FR, RR).
5.1 system – a six speaker system that has quad speakers and adds a front center speaker and a subwoofer. Most DVD movies are made these days with both stereo and 5.1 sound tracks to provide theaterlike sound to movies played on computers and in home theater systems.
7.1 system – a 5.1 system with two side speakers added to further delineate sounds that come from side sources, as well as from front and rear. So far, it's primarily PC games that make use of this technology, so you decide if it's worth it.
Surround Sound – an audio phasing technology (software driven) applied to conventional stereo speakers that give the illusion of depth (front and rear sound). This technology is very good on PCs these days (mostly in games) and make a good case for using this on a 2.0 or 2.1 system rather that going to a full 5.1 or 7.1 system.