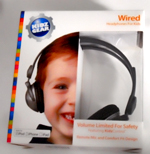 News flash: Children are not short adults, though they are often expected to cope with a one-size-fits all (over the age of 18) world. They climb stairs that are steeper than the entire length of their legs. They sit in chairs big enough for the emperor with no clothes and get yelled at for fidgeting themselves into some resemblance of supported seating. They get plonked in front of iPads and told to be quiet and play a game, watch a movie, or listen to music while fighting to keep a supersized headset from blocking their view or strangling them.
KidzGear headphones bridge the size divide. The model reviewed here is wired, there is also a wireless Bluetooth model which costs slightly more.
(Un)fortunately, I've had no reason to contact tech support, so I cannot personally report on responsiveness. Several of the reviews I read online complained about headsets breaking fairly early in the product life. These were all dated a year or so ago, so it might be that quality control has improved. Only two reported trying to take advantage of the lifetime warranty; I guess the rest were sufficiently ticked off by fussy kids whose sound went away mid-journey. One of the two made a single attempt and gave up, the other reported a cheerful replacement after finally making contact.
Perhaps the problem lies on the documentation page, a single one-sided sheet of paper that includes operating instructions, directions in multiple languages to online translations, and right below the hiragana directions for finding help in Japanese, the Lifetime Warranty. The entire page is printed in what I'd generously estimate to be 3 point sans serif: anyone with eyes good enough to read it is too young to know what "Lifetime Warranty" means, and the paper will get tossed with the clamshell plastic and cardboard.
However, those instructions are important. The button on the volume control switch between + and - which directs forward, reverse, and skip is pretty much invisible on the actual device. It is pictured much larger and in contrasting color on the manual sheet. Once you know where to look, it's not so hard to find.
Onward to the actual headphones. Not concert quality, as some complaints have noted, but well within expectations for something under $25. And how much fidelity do Angry Birds require?
And how much volume is needed? Noise/Sound level is an increasing concern as a cause of hearing loss among a younger and younger population. You can't trust the kiddies to keep their fingers off the volume control, unless you glue it at Minimum. The KidzGear headphones claim a maximum volume of 90 decibels. Safe for adult ears for a few hours according to internet audiology. (Chamber music probably peaks at about 85 dB, a full orchestra at closer to 140.) There appears to be an assumption that the tykes will have the sound on for fewer than 8 consecutive hours. It would be a good idea for them to get up and walk around a bit, too. That's a whole different area for discussion.
KidzGear also offers a volume limit cable that keeps decibels below 95. For $9.99 list price, it claims to work for any stereo headset. It's just a simple jack connector, so anyone who really wanted to could unplug and remove it without parental knowledge and crank the volume up to instant hearing damage.
In addition there is a KidzGear carry bag for your headset and related paraphernalia, list price $5.99. It's a nice, lightweight nylon bag with a plush lining. Of greater interest, if you buy two headsets, a splitter is included at no additional price. Nice touch.
You don't expect me to wear Tiger Woods's shoes. Why would you expect me to wear his headset? Most headsets are too big for me. KidzGear offers an affordable alternative, especially for travel. Adults with larger heads or big hair will find them unworkable.
I work with several just-married 30-Somethings who have entered the baby-focused phase of their lives. KidzGear headphones are a nice alternative to bring to the shower. They are gender-neutral and the prospective kid will be plugged in long before the diaper service subscriptions are used up.
It's not too early to be thinking about holiday shopping, and these are ideal for summer travels, where keeping kids occupied in the back of the car or on a plane can make or break a trip.
If you have young children in your life, KidzGear headsets deserve your attention. They give the child something desired while demonstrating adult responsibility for the health and welfare of the tykes involved.
In the basic box:
A headset
An 8.5" x 11" inch single-side instruction sheet/manual
Headset specs from the box:
20-20,000 Hz tone range
80-90 dB sound level range
32 ohms impedance
1.5 meter cable (4.92125984 feet)
3.5 mm jack
KidzGear Wired Headphones for iPod, iPad, iPhone
$19.95 or your best e-shopping
Two for $35.98