OK, so you got one of those ultra-cool video iPods. And it came with this not-so-cool vinyl carrying pouch. And you can see that this is not-so-cool iProtection for your expensive iPod. How can you protect this delicate drop-toy from the rigors of everyday life? With $500 iPhones, SmartPhones and BlackBerrys, it's hard to understand why they don't include a decent carrying case for these devices.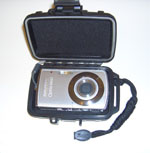 Enter the OtterBox. OtterBox make a line of enclosures that includes custom cases for popular models of mobile phones, PDAs, laptops, and media players. They come in basically two styles, the heavy- duty Armor series for serious protection, and the Defender series which are slimmer and lighter and offer a more urban style of protection. Which you choose depends on the ruggedness of your lifestyle. Both are full enclosures that cover all surfaces and allow full use of the device while fully covered.
If you are an outdoor type who likes to carry your iLife out in the wilderness with you, the OtterBox custom cases are ideal. They are both impact resistant and water resistant to the point that if you drop the case into water it will float. There are many sizes and styles of these general enclosures that are very useful for protecting flashlights, GPSs, sunglasses and other stuff you need out there in the wild, as well as your wallet, mobile phone, digital camera that you want to make it back to civilization with. The OtterBoxes are crushproof, waterproof, and they float! They come in a variety of sizes, shapes and bright colors (you don't really want to search for a "camouflage" colored box out in the woods, do you) so you can choose the best size and shape for your needs.
Otterbox is the Missing Enclosure series for all those devices that come with poor or no protection. Want your device to be there for you when you need it? Get your device
an OtterBox and it will be.
Product Information:
OtterBox
Otter Products LLC

1 Old Town Square Ste. 303
Fort Collins, CO 80524
800-695-8820
www.otterbox.com