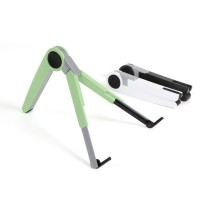 The Cricket comes in 3 colors: Charcoal, MacWhite, and Eco Green
www.LCDarms.com
MSRP $39.95
What do you get for the geek who has everything? A place to put it. Preferably a place to show it off. This little gadget is literally cool, providing enough lift under the most powerful mobile gaming rig (at least all those up to 12 pounds) to keep it humming along at room temperature.
Cricket will adjust a laptop (or a clipboard) to an angle that is more ergonomic than a flat table for both your hands and your neck. The distributor would like us to know that it sustainably manufactured, containing 70% recycled materials.
Although the name borders on the too cute, the product borders on the totally elegant. A collection of engineering details make it a marvel of compactness and efficiency. It folds up tight into a bar just under 8" long, 17/8" tapering to 1½" wide, and under 1" thick. A large push-button releases the front legs from the back leg, and the release ratchet firmly holds position in one of 5 angles as you to choose the degree of tilt up off the desk that you want. The front legs separate and extensions slide elegantly out of them allowing the fingers (toes?) to be lifted to provide a backstop that definitely keeps the computer from sliding off.
To set up, press the release ratchet and either hold until you reach your preferred display angle or step through the choices. Separate the front arms. Pull out the arm extensions, using a firm tug outward. Raise the front stop barriers. Place your laptop on the triangle, open and compute. Cricket holds your computer up off the work surface, allowing plenty of air circulation below. This prevents the heat build-up that shortens battery life and the fuse of laptop users. Even at the flattest angle, with the Cricket almost horizontal, air circulation is increased enough to make a significant difference in the temperature immediately below. Especially in warmer weather, the difference is enough to improve personal productivity and mood measurably.
What we like: The Cricket has a sturdy elegant design that folds compactly, with no protuberances to catch or poke holes in cases. The release ratchet is sturdy and easy to depress. The Cricket does what it says it will. It gets a laptop up off a tabletop, eliminating heat build-up. At the same time, the choice of angles offers ergonomic improvements to the usual unhealthy positioning of a laptop. The fingers that stop the laptop from sliding off the Cricket are designed so that they cannot fold down while they are holding a device; the laptop can't slip forward off the Cricket, no matter how steep the angle of usage. The raised angle makes it easier to share the screen display with at least a small group, such as in a meeting or work group.
What we don't like: At the flatter angles, the Cricket spreads out enough fore and aft to be a challenge on narrower tables or surfaces like those lovely note-taking arms on secondary-school desks. At its fullest extension, the Cricket needs about 16 inches front to back. Taking notes at a meeting on an 18" table had me putting as much attention on avoiding slippage as on the content, since I wanted a low angle in order to be able to see people. Cricket definitely lives on hard surfaces. If you want your laptop on your lap, you'll need to find another way to arrange for airflow if you want to stay cool.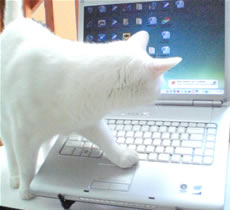 The front legs spread to only one angle, and that wasn't quite wide enough to provide true lateral stability for a 15" laptop, even before the resident cat started Googling for home delivery of his favorite treats. While it may be able to handle 12 pounds, a Cricket is likely to be challenged balancing a 17" laptop of any weight. Another problem caused by the narrow angle of spread is that the fingers, which do stick up above the height of the computer, at just the position of the wrists of a touch typist. A wider angle would have provided more side-to-side stability for the computer as well as avoiding inadvertent pokes in both wrists.
What we like: At 10 ounces, the Cricket slides almost imperceptibly into my rolling briefcase and the "extra stuff" canvas tote bag that I tote around. Considerably bigger than a cell phone, neither purse nor pocket makes a good Cricket nest.
On several of the beastly hot, un-air-conditioned days of a recent heat wave, I was stuck in a very long computer-based undertaking. Speech recognition was the basis of the project, so I had a headset connected, along with a wired internet for faster reference and updates than over the wireless connection, and the AC adapter to maintain consistent power. With the laptop on my lap, sitting in that rolled up position--feet on the edge of the sofa and my knees near my armpits–that we learned as adolescents, with the computer balanced on said knees, I quickly reached melt-down. Though I had to pay attention to the all the wires each time I repositioned, I never actually displaced the Cricket. As long as I was willing to sit up with good ergonomics with the laptop on its Cricket, the laptop stayed cool. Just returning it to the Cricket for breaks while I was thinking was enough to keep the whole system, operator included, at a tolerable temperature.
Solidly built, a Cricket would add functionality to a road warrior's kit and pizzaz to a presenter's gear. The sleek sides just beg to have a corporate logo embossed. Laptop-based students, who often get postage-stamp work surfaces and cramped quarters could find themselves reviewing their most recent topology course in order to take advantage of Cricket's cooling and ergonomic angles. Like many technology products, the Cricket fills a very specific niche. It does its job better than most gadgets out there and is well worth the minimal investment for the amount of comfort–and increased productivity–in adds to a mobile workstation.