This year, tech isn't about the killer app, or even the latest-greatest gizmo. It's about how one shows off one's stuff. The right color ear buds are an integral part of one's fashion statement.
So in my eternal quest for the perfect bag (lightweight, chic and/or cute, all the zippers and closures close easily, lots of pockets, straps that are adjustable, lots of pockets), I was delighted to discover Golla Bags at CES this year. Returning home with my new 15" laptop sleeve, I found that the zippers work smoothly around the corners as the bag unzips to lie flat open. The sleeve does lie all the way flat open; no parking meter change is going to hide at the bottom of this one.
On the back of the sleeve, a document pocket closes with a Velcro™ snap. The pocket is deep enough to hold 8.5" x 11" papers easily, and the snap keeps them from falling out. A handle pulls out of the top of the case, to be sure that I can keep a grip on my stuff. At last, a component that takes no installation and works as promised.
Encouraged, I headed off to the Golla site to see if they might have something resembling the Perfect Purse (you know: holds everything, smaller outside than inside, nothing ever gets lost in it, matches everything in my wardrobe, and is appropriate at formal dinners and on camping trips). Golla clearly isn't expecting shoppers. It's the slowest Web site I've encountered since I hung up my 300 baud modem. The site provides a single shot of each design, in each of its many color choices. Half a dozen to a dozen color choices for the various models of containers, all a gear bag or pouch of some kind. Each shown in the exact same view. You'd think someone had taken just one photo and then just changed the color with a graphics editor. No peek inside of anything, no side or top view. No zoom in, no rotate. The lack of pricing and Buy Now buttons told me that I wasn't going to buy anything directly from a Golla site – in any language that I can read. Although I did become distracted (or entertained) by looking at the vendors carrying Golla products in the 70 or so countries that sell the Golla line. The vendor names are not live links: I had to manually open a separate browser tab to the stores individually. I learned that 1) in the US, only Sears.com carries the backpacks and computer sleeves 2) Germany has lots of stores that carry Golla.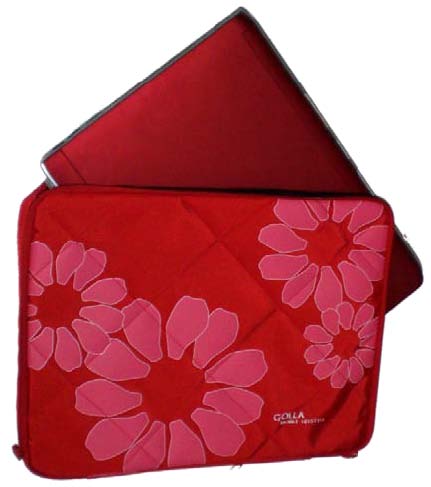 Back in January at the Consumer Electronics Show, Golla seemed to be serious about entering the US market. Let's hope so. My collection of basic-black computer bags will easily last me the rest of this lifetime at a minimum. Not only do the basic black bags all look pretty much alike, they look like everyone else's too. The potential for mixups is more than a cosmetic annoyance and I hope that Golla can make its Web presence more friendly and shoppable, in my country at least. The way I live, the sleeve would be perfect if it had a shoulder-strap option. Maybe one of the backpack styles would do. I'd need to see it with my fingers and try it out to be sure it works with the stuff I carry around. Many people don't seem to care, but I need my hands free to open doors, turn keys, talk, etc.
At prices from $16.95 U.S. (on my Web shopping trip), Golla offers a range of stylish options to make carrying electronic stuff more fun. Light years of improvement over pocket protectors. Please note: no installation required, the only system requirement is to match the bag size to your gear, and there are no hassles about conflicts or upgrades. If you aren't ready for the ultimate laptop or super iPhone, deck your comfortable old gear in affordable new attire. Highly recommended as an affordable self-indulgence or as a gift.
Product Information
Golla laptop case
MSRP $39
Golla USA
935 W Chestnut Street
Chicago IL, 60622
www.golla.com